Management Development Program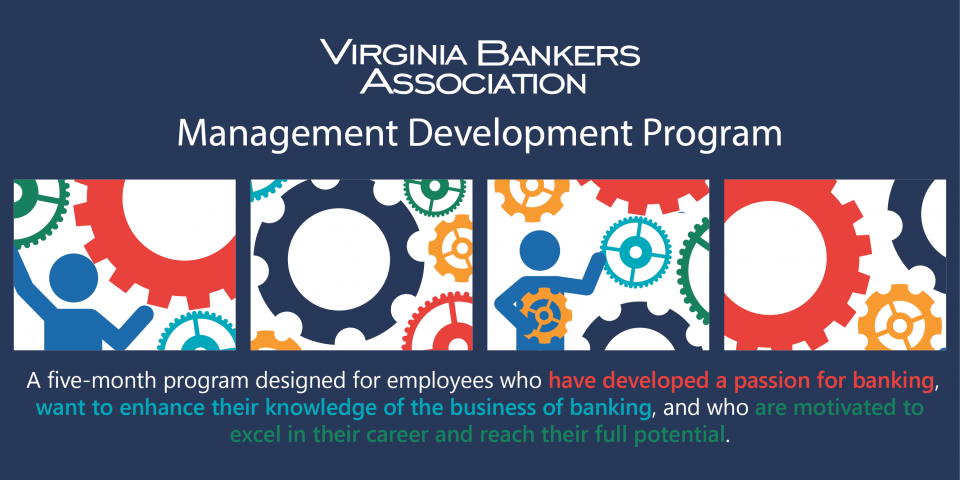 The VBA Management Development Program is a five-month, comprehensive training designed for newer employees who have developed a passion for banking, want to enhance their knowledge of the business of banking, and who are motivated to excel in their career and reach their full potential.
The VBA Management Development Program sessions will provide information to make your employees better bankers, to ensure that they move beyond the transaction and truly understand the industry in which they work, to instill the notion that strategy and goals are imperative to drive the bank forward, and to empower them to present themselves as leaders as they move forward in their career.
The facilitators for this program are some of the very best from inside and outside the banking industry. We chose these professionals specifically because they understand the banking industry and they are experts in the development of outstanding bank employees.
We are very excited to bring an in-depth program to bankers at the beginning of their career in this great industry.

I cannot begin to express how grateful I am to have been a part of this program as it fully solidified for me the direction I wanted my career to go in and how to navigate and manifest those goals. I have taken so much of what we learned into my daily work life and I made it a point to ask my supervisor to include in my new job description helping my peers create their desired career paths as well as finding and developing training opportunities. I want to pay the knowledge and enthusiasm that I gained from this course forward to the people that want to succeed and have goals like me. Ashley Sulick, Chesapeake Bank

I felt as if my knowledge and confidence as a banker grew exponentially. Each session's presenter gave us the exact tools we needed to prepare us for our careers in bank management, and the knowledge was much deeper than just the ins and outs of a bank. They taught us about more than just the numbers and data, but about the future of banking, how things have/will change, how to best promote a bank to gain business, and about our own independent leadership styles. The pre-work and post-work assignments reinforced what we learned and were very beneficial to the whole process. Jarred Marlowe, Carter Bank & Trust

The VBA Management Development Program has helped me in my role in management. Understanding others' personalities and their work ethic has helped me with my own personal management skills. I obtained a wealth of knowledge for finance and accounting. The highlight of the entire program was the virtual sessions and getting to engage with others also attending the program. Jennifer Lincoln, Chain Bridge Bank, N.A.
Session Information
Orientation | September 27, 2021 | 1:00-4:00 pm | Virtual (Zoom)
In Part One of the opening session, Andy Davies and Courtney Fleming will explain the learning outcomes for the Management Development Program, walk the participants through the format for a virtual experience, review the pre and post-work schedule and assignments, and facilitate an exercise to promote relationship building and networking. Part Two of this session, the participants will hear from Bruce Whitehurst on his philosophy on leadership, followed by a discussion on bank regulation, the history and challenging periods of modern banking and the history of the VBA. In Part Three of the opening session, the participants will hear from Matt Bruning on advocacy and Chandler Owdom about VBA Emerging Bank Leaders. This session will set the stage for what is to come in the months ahead.
Speaker(s):
Andy Davies, The Marathon Organization
Courtney Fleming, Virginia Bankers Association
SESSION 1 | Introduction to Banking and Understanding Bank Financials & Profitability
October 12, 2021 | 9:00 am-4:30 pm | VBA Training Center
Part One of Session One will begin with an opening exercise focused on the history of the participants' banks . Bruce Whitehurst will then provide an industry and regulatory forecast.
Part Two of Session One will have a dual focus. First, a group discussion of key concepts, including core values, vision strategy, CAMELS rating system, 'peer groups', risk management and components of deposit and loan portfolios. Second, "ALCO in 90 Minutes", a roadmap of the components of a basic Asset Liability Management Process.
Speaker(s):
Andy Davies, The Marathon Organization
Bruce Whitehurst, Virginia Bankers Association
Michelle Austin, Bank of Botetourt
SESSION 2 | Leadership and Management | October 13, 2021 | 9:00 am-4:30 pm | VBA Training Center
Good working relationships: we need them to sustain an organization, foster employee engagement and a healthy culture, and drive results. Insights® is a tool that helps you start, sustain, and grow in those crucial relationships by promoting self-awareness. By helping individuals deepen their sense of self – and their approach to work – Insights® helps to improve communication, decision making, performance, and understanding of one's leadership styles. Through understanding your own preferences for engagement, decision making, and taking information in, Insights® helps you understand how others may experience you at work, how to appreciate different styles, and how to adapt your preferences when needed.
During this interactive session, we will cover:
The importance of self-awareness and perception in the workplace;
The Insights® Discovery tool and the language of colors to define preferences;
An overview of your individual profile and your personal color preferences; and
Action plans to put new awareness and commitments into practice at work.
Speaker(s):
SESSION 3 | Banking Lines of Business and Bank Management
November 17, 2021 | 9:00 am-4:30 pm | VBA Training Center
Session Three is designed to provide you with some insight into leading and managing a bank – from the seat of a President/CEO focusing on the broad spectrum of the key fundamental areas of asset/liability management, lending portfolio management, and managing the customer experience. This session will be very interactive and will incorporate small group activities, case studies and roundtable discussion. Below are some of the focus areas of this session:
Asset/Liability Management
Explore the bank's balance sheet in relation to rate sensitivity
Discuss key profitability ratios
Role of the investment portfolio
Examine liquidity and funding sources – managing a bank's cash position
Lending Portfolio Management
Review the different loan types
Understand the impact the lending area has on bank earnings
Understand the factors involved in a credit decision
Review the components of managing a loan portfolio
Customer Experience Management
Current economic landscape
History of regulations vs. customer perception
Professional maturity
Ordinary vs. extraordinary experiences
Investing in our people portfolio
Speaker(s):
Vicki Kraai, InterAction Training
VIRTUAL SESSION | CRA, Community Development and Networking 101
December 8, 2021 | 2:00pm-3:30pm | Virtual (Zoom)
Bankers and Community Reinvestment Act (CRA): Drivers of Opportunity for Thriving Communities
This session will cover the banking industry's meaningful work strengthening communities, and the participants will explore how community engagement impacts their careers and goals.
Innovative Ways to Connect and Engage with Individuals, Businesses and Communities
This session will cover the post-pandemic connection opportunities than can influence and impact professional goals.
Speaker(s):
Nathalia Artus, Atlantic Union Bank
SESSION 4 | The Modern Bank Marketing Department: Brand, Digital, Data, and Experience
December 14, 2021 | 9:00 am-4:30 pm | VBA Training Center
For decades, bank marketing was limited to quarterly campaigns and arranging the next customer appreciation day at the local branch. But progressive banks are changing how marketing becomes a center force for changing your customers' experience, the financial products you offer, technology decisions you make, and the channels through which you serve your clients' needs. This session will take you through four key tenets of a modern bank marketing department: brand communication, digital marketing, data analytics, and experiential product and service development.
Speaker(s):
Hunter Young, HIFI Agency
SESSION 5, Part 1 | Introduction to Strategic Planning & Perspectives on Career Development
January 11, 2022 | 9:00 am-4:30 pm | Location TBA
Participants will gain an understanding of why strategic planning is important to regulators, management and the bank's board of directors. Participants will work together with two facilitators to create a sample table of contents of a community bank three-year plan to demonstrate the process and the importance of having a plan to steer the bank forward. Participants will also learn how to enhance their careers by taking active roles within the banking industry and within their communities.
Speaker(s):
Tom Rasey, The Farmers Bank of Appomattox
SESSION 5, Part 2 | Building Relationships, Dealing with Change in the Workplace, and Staying Abreast of Issues Affecting Your Bank and the Banking Industry
January 12, 2022 | 9:00 am-3:00 pm | Location TBA
Participants will first hear from a Virginia bank retail executive on developing an understanding of the importance of building valued relationships among your peers within the bank. The group will then interact with a panel of senior bank executives and discuss how to deal with change in the workplace. Panelists will offer guidance on dealing with change and examples of challenges panelists have met in their careers. The session will close with a recap of the advocacy discussion from Session I and the networking discussion from the virtual session, followed by some time for Banker Day prep.
Speaker(s):
Andy Davies, The Marathon Organization
Cody Florence, The Fauquier Bank, a Division of Virginia National Bank
Chandler Owdom, Virginia Bankers Association
Matt Bruning, Virginia Bankers Association
Nathalia Artus, Atlantic Union Bank
Leadership Panel

Pat Lewis, Chesapeake Bank
Tom Rasey, The Farmers Bank of Appomattox
Taylor Harrell, Southern Bank and Trust Company
Sherri Sackett, Select Bank
Graduation | January 12, 2022 | 4:00-5:00 pm | Location TBA
Faculty & Speakers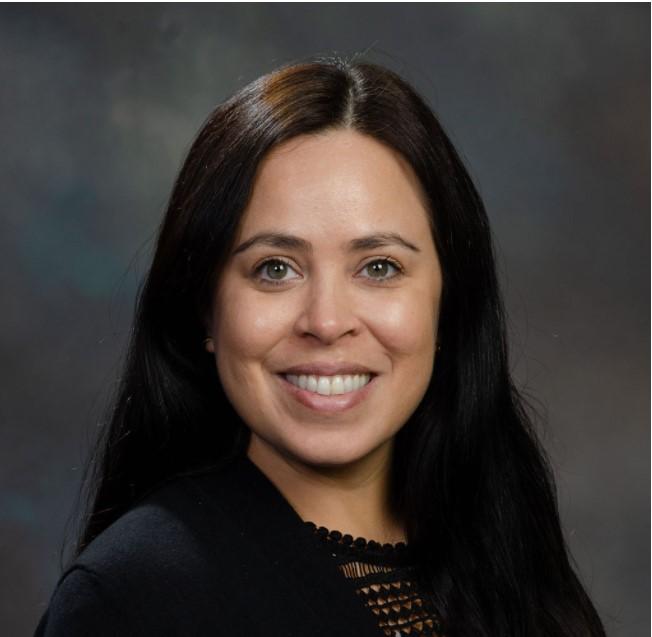 Nathalia Artus, Atlantic Union Bank
Nathalia Artus is the Director of Community Development and Reinvestment, CRA Officer, for Atlantic Union Bank. Nathalia joined Atlantic Union Bank Wholesale Banking Team in 2017. Her prior roles included Government Guaranty Lending Manager at Primis, and Regional Lending Manager for the Virginia Small Business Financing Authority. Earlier in her career, Nathalia held operational and credit focused roles at Truist and the SBA Women Business Center. Nathalia's current role is to connect organizations and communities to flexible resources and opportunities in affordable housing, economic development and financial education throughout the entire Atlantic Union Bank footprint in VA, MD and NC.
Nathalia is an active community volunteer with several nonprofit and statewide government organizations. She currently serves on the Virginia Housing Development Authority Board of Commissioners, and on the boards of YWCA of Richmond, Virginia Impact Investment Fund, Virginia Bankers Association Education Foundation, Housing Virginia, Partnership for Housing Affordability, Virginia Supportive Housing, and ChamberRVA.
Nathalia has a B.S. in Business Administration from Universidade Mackenzie in Sao Paulo, Brazil, and a MBA from Brazilian Business School (in partnership with the University of Richmond). She is a graduate of the Virginia Bankers School of Bank Management, 2016 Leadership Metro Richmond class, and the 2018 LEAD VA program.

Michelle Austin, Bank of Botetourt
Michelle joined Bank of Botetourt in 1993 after graduating Magna Cum Laude and Salutatorian from Roanoke College with a Bachelor of Business Administration degree. During her career, she has served as marketing officer and branch manager before being named CFO of Bank of Botetourt in 2005. Michelle was a member of the CFO Committee of the Virginia Bankers Association from 2008-2016, including one year as committee chairman. Michelle is a graduate of the Virginia Bankers School of Bank Management at the University of Virginia and is also a graduate of the Graduate School of Banking at Louisiana State University. She earned her Master of Business Administration degree from Troy University in 2005. From 2006-2016 Michelle was an adjunct professor in Roanoke College's Department of Business Administration & Economics where she has taught Principles of Accounting, Commercial Banking, and an Economics course called The Fed Challenge. She serves on the Department's Advisory Board comprised of alumni and local business leaders. In 2010, Michelle was recognized in the Blue Ridge Business Journal's Top 20 Under 40 edition. She was nominated and selected as one of the Roanoke Valley's top 20 emerging business leaders under the age of 40. She has served on the Botetourt County School Board since 2017.

Andy Davies, The Marathon Organization, LTD
Andy is CEO of The Marathon Organization, LTD, enjoyed a 40-year banking career and led the successful turnaround of two Virginia-based financial institutions ($800 million and $3 billion). He has offered customized strategic planning services to community banks across the southeast since 2002. Andy has been a speaker at educational seminars and bank director colleges offered by the Virginia Bankers Association, the North Carolina Commissioner of Banks and the Tennessee Bankers Association. Andy is a graduate of the College of William and Mary, the Stonier Graduate School of Banking and the Virginia Bankers School of Bank Management. Andy lives in Virginia Beach.

Serena Fulton, Floricane
Serena Fulton is a consultant and facilitator at Floricane, a Richmond-based consultancy focused on providing strategy, leadership, and culture support for organizations across Virginia. Floricane's approach is customized to clarify intention and purpose, discover and design sustainable pathways forward, and strengthen and empower people to drive the change.
Prior to joining the Floricane team, Serena worked in the realms of non-profit management, coworking, entrepreneurship, wilderness therapy, and community development. Her focus has always been on helping individuals and organizations develop themselves, build relationships, and do their best work in the midst of change.
You can typically find Serena on a bike, a trail, or reading a book. She loves poetry, dinner parties, podcasts, organizing and activism, and talking about feelings.

Vicki Kraai, InterAction Training
Vicki's 25+ years of financial services experience started at the family bank in rural Nebraska, serving as a teller and eventually becoming CEO. Her many years of banking include credit card lending experience where she was a member of the management team that launched the Cabela's credit card program. She has a passion for developing people for success in the financial services industry. Attendee's value Vicki's highly engaging "been there, done that" approach to all facets of her training and speaking engagements.
Vicki shares her expertise and experience as a faculty member for State Bank Association Schools and the Graduate School of Banking in Madison, WI. Vicki was recently named the new CEO of InterAction Training.

Bruce Whitehurst, Virginia Bankers Association
Bruce Whitehurst joined the Virginia Bankers Association in 1993 following a 10-year career in retail and commercial banking. He has served as president and chief executive officer of the association since 2007 and was previously executive vice president. While at the VBA, Bruce has worked with member banks in a variety of areas, to include government relations, education and training, financial literacy, and partnering with banks in a number of innovative ways to help them enter new lines of business. He also speaks about and on behalf of the industry on a regular basis.

Hunter Young, HIFI Agency
Hunter founded HIFI Agency to help financial companies find clarity in a chaotic digital world. When not working with banking and fintech clients across the country on branding, media approaches, or digital marketing, he teaches classes for a variety of state bank associations and universities.
Before starting his agency, Hunter's career included leadership roles in banking, advertising agencies, and a mobile technology startup. It's a collective experience that has led to a data-driven creativity in everything he does. His banking career included time at BB&T (now Truist) where he led the Global Digital Web team responsible for millions of customers' online experiences. He then developed and led the marketing and customer intelligence teams at one of the fastest growing community banks in the U.S., First Bank of North Carolina, which grew from $2 billion to nearly $6 billion in assets during his time there. Hunter graduated from the University of North Carolina at Chapel Hill (Go Heels!) with a degree in Marketing Communications and a minor in Spanish Language. He resides in Raleigh with his wife, daughter and rambunctious golden retriever.
Other Guest Speakers will include:
Matt Bruning, Virginia Bankers Association
Courtney Fleming, Virginia Bankers Association
Cody Florence, The Fauquier Bank, a Division of Virginia National Bank
Chandler Owdom, Virginia Bankers Association
Tom Rasey, The Farmers Bank of Appomattox
Participation Criteria
You must be:
A new hire or have up to five years of banking experience or equivalent financial industry experience
Nominated by a member of the bank's senior management team
A current member of the Virginia Bankers Association through your bank's membership
Tuition
Tuition for the 2021-2022 Management Development Program is $2,750. Tuition covers all sessions, materials, instructor fees, continental breakfast, lunch and refreshments. Tuition does not cover overnight accommodations, if applicable, or dinners. Your registration is a full-tuition commitment. Information for on overnight accommodations will be sent directly to enrolled students.