2021 Virtual VBA/ABA Washington Summit Recap
March 16-17, 2021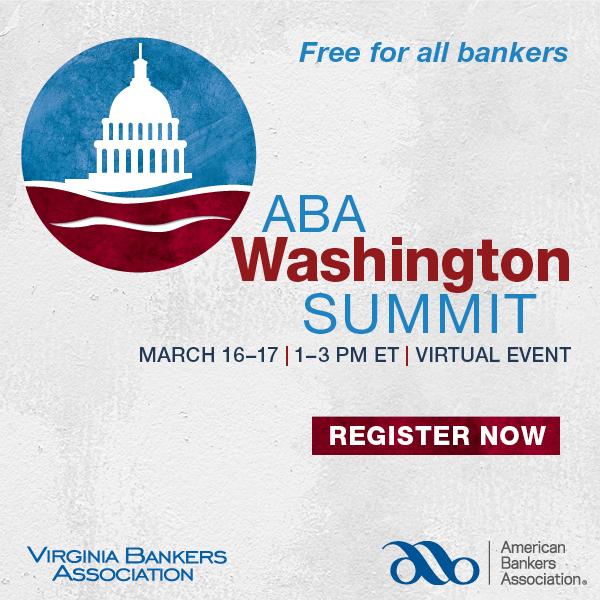 On March 16-17, more than 3,600 bankers from across the county attended the virtual VBA/ABA Washington Summit, with more than 110 attendees from Virginia. Attendees were the first to hear what lawmakers, regulators and the administration are planning in the weeks and months ahead. Pandemic response and relief, financial inclusion, and a host of other timely banking issues were on the agenda.
You can listen to highlights from this year's Summit on a recent episode of ABA Banking Journal Podcast here.
Save the date for the 2022 VBA/ABA Washington Summit on March 7-9 in Washington, D.C.
Program Sessions & Speakers
Sessions and topics at this year's Summit included:
Addressing Economic Inclusion through Safe and Affordable Bank Accounts
Prospects for Bipartisan Cooperation in the 117th Congress
COVID-19 Update: How Much Light at the End of the Tunnel?
State of the Industry: The View from Outside Washington
The View From the White House
Speakers at this year's Summit included:
A. Scott Anderson | President & CEO, Zions Bank
James Ballentine | Executive Vice President, Congressional Relations and Political Affairs, American Bankers Association
Rep. Joyce Beatty (D-Ohio) | Chairwoman, Congressional Black Caucus and Chairwoman, House Financial Services Subcommittee on Diversity & Inclusion
Paul Benda | Senior Vice President, Risk and Cyber Policy, American Bankers Association
Sen. Sherrod Brown (D-OH) | Chairman, Senate Banking, Housing, & Urban Affairs Committee
Naomi Camper | Chief Policy Officer, American Bankers Association
Jim Edwards | CEO, United Bank, and American Bankers Association Chair
Kenneth Kelly | Chairman & CEO, First Independence Bank
Jelena McWilliams | FDIC Chairman
Rob Nichols | President & CEO, ABA
Julie Thurlow | President & CEO | Reading Co-Operative Bank
Pat Toomey (R-Pa.) | Senate Banking Committee Ranking Member
Rep. Maxine Waters (D-Calif.) | Chairwoman, House Financial Services Committee
Patricia Weigel | President & CEO, Norway Savings Bank
Stay Engaged in Advocacy
Sign Up for Our Legislative Bulletin
This bulletin is a biweekly communication during the General Assembly Session, sent to members to keep them updated on pending legislation that would impact banking. Special Legislative Bulletins are also distributed throughout the year to keep members up-to-date on other government relations and advocacy events and initiatives. Click here to sign up for this as well as other VBA eNewsletters and publications.
Be on the Look-Out for Call-to-Action Alerts
Sign up for VBA call-to-action alerts here.
View Pictures from the 2021 Event