2021 Virtual VBA Bank Day Scholarship Program Recap
Virginia Bankers Celebrate 30 Years of the Bank Day in 2021!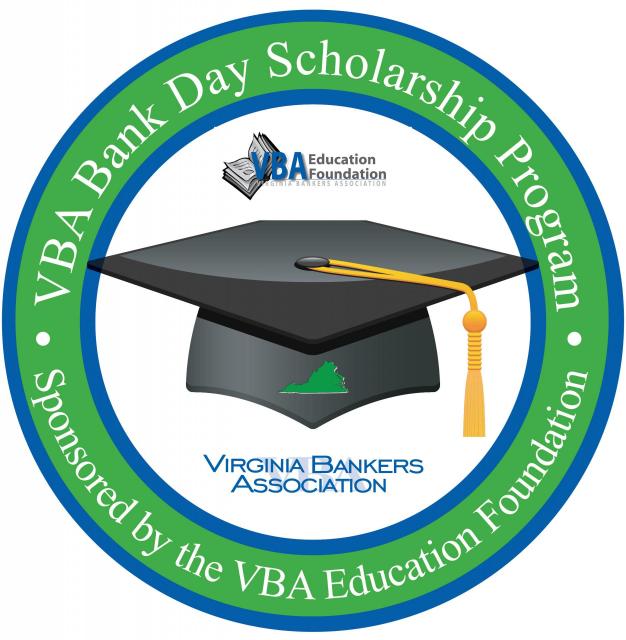 In March 2021, more than 420 Virginia high school students participated in the virtual VBA Bank Day Scholarship Program. Through this program, students learned about career opportunities in banking, how banks support communities and ways to manage their financial futures. From their experience, students wrote an essay and a total of $29,000 was awarded from the VBA Education Foundation to 12 students on the basis of the essays.
Due to the pandemic, the 2021 Bank Day Scholarship Program was held virtually centralized with content provided on a resource webpage from the VBA. Students had access to the VBA-created webpage over a three-week window from March 15-April 2. Included on the resource webpage were:
Video series, created by members of the VBA Emerging Bank Leaders, covering a variety of industry topics including banking fundamentals, "Banking 101″, understanding credit, careers in banking, and a community engagement panel discussion.
Articles about banks' economic impact in Virginia, career opportunities, and how the industry has stepped up and responded during the pandemic.
Podcasts on building a banking career, bankers' community commitment, and a look at Virginia's economy.
Information and resources on understanding student loans from VBA Associate Member College Ave.
Virtual host banks provided supplemental resources and held virtual meetings with their registered students to showcase the ways their bank supports the community it serves.
Congratulations to the 2021 Winners!
Congratulations to Carter Watts who was named this year's statewide winner. As the statewide winner, Carter received a $5,000 scholarship in addition to her $2,500 regional scholarship.
Read Carter's Award Winning Essay Here!
In recognition of the 30th anniversary of Bank Day, an additional statewide runner-up scholarship was awarded this year. Congratulations to Isaac Rits, virtually hosted by Burke & Herbert Bank, for being named this year's statewide runner-up. Isaac received a $3,000 scholarship as the statewide runner-up in addition to his $2,500 regional scholarship.
Read Isaac's Award Winning Essay Here!
This year, there were also six regional winners who each received a $2,500 scholarship and six honorable mention winners who each received a $1,000 scholarship. Congratulations to the following students and their virtual host banks:
Capitol Honorable Mention Winner: Ashton Ingle, Powhatan High School, C&F Bank
Central/Southside Region Winner: Emily Butts, Dan River High School, American National Bank & Trust Co.
Central/Southside Honorable Mention Winner: Jacob Bell, Hidden Valley High School, Bank of Botetourt
Eastern Virginia Region Winner: Jayla Foreman, Kecoughtan High School, Old Point National Bank
Eastern Virginia Honorable Mention Winner: Katarina Zeiler, Lancaster High School, Chesapeake Bank
Statewide Runner-Up Winner and Northern Virginia Region Winner: Isaac Rits, Homeschool, Burke & Herbert Bank
Northern Virginia Honorable Mention Winner: Travis Nguyen, Patriot High School, Burke & Herbert Bank
Southwest Virginia Region Winner: Chloe Vaughn, Galax High School, Skyline National Bank
Southwest Virginia Honorable Mention Winner: Marissa Ferland, Marion Senior High School, The Bank of Marion
Valley Region Winner: Abigail Davis, Strasburg High School, First Bank, Virginia
Valley Honorable Mention Winner: Julia Hunter, Sherando High School, First Bank, Virginia
Thank You to the 2021 Virtual Host Banks
American National Bank & Trust Co.
Atlantic Union Bank
Bank of Botetourt
Bank of Clarke County
Benchmark Community Bank
Blue Ridge Bank
Burke & Herbert Bank
C&F Bank
Chesapeake Bank
Essex Bank
F&M Bank
Farmers Bank
First Bank, Virginia

First National Bank
Freedom Bank of Virginia
New Peoples Bank
Oak View National Bank
Old Point National Bank
Powell Valley National Bank
Primis Bank
Skyline National Bank
The Bank of Fincastle
The Bank of Marion
United Bank
Village Bank
Virginia Partners Bank
Pictures from This Year's Program