2021 VBA Leadership Conference Recap
October 21-22, 2021

More than 60 Virginia bankers joined us in Harrisonburg at the Hotel Madison for the 2021 VBA Leadership Conference October 21-22. This annual event is designed for emerging banking leaders and members of the Virginia Bankers Association Emerging Bank Leaders (EBL) group, giving attendees the opportunity to share ideas and network with peers from across the state.
A special thank you to our 2021 EBL Chair Nicole Martin, Benchmark Community Bank, for her leadership over the past year and for presiding over our conference! Learn more about Nicole in her Virginia Banking Monthly Q&A here.
Session and Speaker Information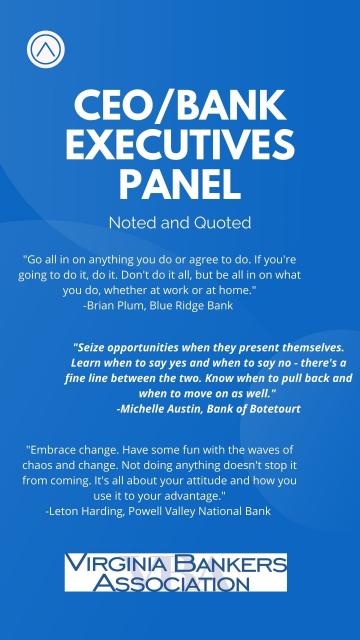 This year's event included a variety of sessions on topics such as re-engaging your team in a pandemic, a bank leadership panel, cryptocurrency 101, how to live your life "all in", an industry update, diversity, equity and inclusion – going beyond the basics, and more!
How to Reengage with Your Team In a Pandemic
Rachelle Humiston, Executive Consultant, Director, Cultivate™ at Haberfeld
Bank CEO/Executives Panel
Featured Panelists:
Michelle Austin, Executive Vice President COO & CFO, Bank of Botetourt
Leton Harding, VBA Chairman and President & CEO, Powell Valley National Bank
Brian Plum, CEO, Blue Ridge Bank
Moderated by 2021 Emerging Bank Leaders Chair Nicole Martin, SVP/Deposit Administration, Benchmark Community Bank
​Cryptocurrency 101
Barbara Hudgins, AAP, APRP, Director, Payments Education
ePayResources
All In: The Story of How All In Started with the NY Giants and What is Happening Today
Gian Paul Gonzalez, Public Speaker, Educator & Executive Director
Hope & Future Youth Center
VBA & Industry Update
Bruce Whitehurst, President & CEO, Virginia Bankers Association
Diversity, Equity and Inclusion: Going Beyond the Basics
Jasmine Cooper, Vice President, Diversity Equity and Inclusion, American Bankers Association
Downhills Don't Come Free
Jerry Holl, Award-Winning Author of "Downhills Don't Come Free," Jerry Holl, LLC
Get Smart About Credit Day School Supply Drive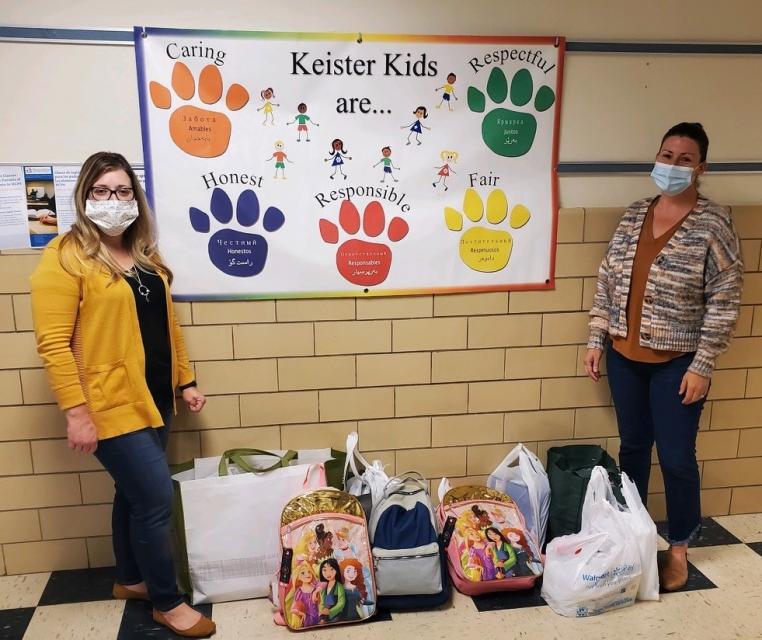 During the conference, we collected school supplies for a local Title 1 elementary school - Keister Elementary – in recognition of Get Smart About Credit Day. A special thank you to Dorothy Welch, Blue Ridge Bank, for helping us coordinate the drive and dropping off the donations to the school.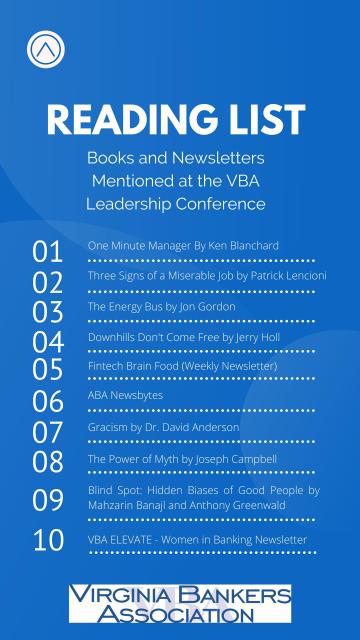 Pictures from the Networking Activity
Additional Pictures from the Event
Thank You to Our Sponsors!