2021 VBA Annual Convention Recap
September 12-15, 2021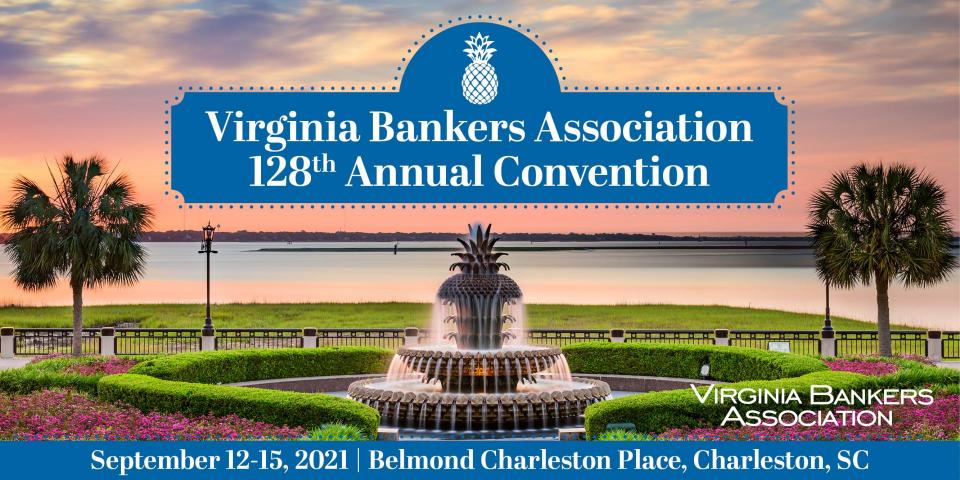 More than 310 bankers and industry partners attended the 128th Annual Convention at the Belmond Charleston Place in Charleston, SC from September 12-15, 2021. This year's Convention combined a great lineup of speakers on timely topics and networking. We were excited to finally come together, enjoy each other's company and educate ourselves on industry topics together.
Thank you to 2020-2021 VBA Chairman John Asbury, Atlantic Union Bankshares Corp., who presided over this year's event. To kick off our event, attendees were invited to a Welcome Reception, sponsored by Bankers Insurance, LLC on Sunday evening. In addition to the business session on Monday morning, spouses and guests participated in the home and garden walking tour. A reception and dinner, featuring The Bob Williams Duo, was held on Monday evening, sponsored by Investors Title Insurance Company. A dessert reception, hosted by Piper Sandler & Co., followed dinner, taking place at the Riviera Theatre. On Tuesday evening, TBL Networks hosted a Farewell Reception in the Riviera Theatre.
Save the date for the 2022 Annual Convention June 19-22 in Virginia Beach.
Speaker & Session Information
Speakers and sessions included:
You Can't Predict, But You Can Prepare – Getting Ready for 2022
Avi J. Barak & Scott Hildenbrand, Piper Sandler & Co.
A Conversation with Gene Ludwig and Rob Nichols
Gene Ludwig, Promontory MortgagePath; Rob Nichols, American Bankers Association; John Asbury, Atlantic Union Bankshares Corp.; and moderated by Bruce Whitehurst, VBA
Woodward on Washington: An Economic, Public Policy, and Political Outlook
Joan Woodward, Travelers Institute
Remaining Relevant in a Digital Banking World
Dave Martin, bankmechanics
A Focus on Mental Health: Making Your Well-being Strategy a Competitive Advantage
Betsy Nota-Kirby, Marsh & McLennan Agency
Where to From Here? A Leadership Panel
John Asbury, Atlantic Union Bankshares Corp.; Jeff Haley, American National Bank & Trust Company; Leton Harding, Powell Valley National Bank; and moderated by Bruce Whitehurst, VBA
What Comes After COVID? The Decade Ahead
Michael Rogers, Practical Futurist
Maximizing the Power of Inclusion by Uncovering the Impact of Unconscious Bias on Business Results
Lenora Billings-Harris, International Diversity Strategist & Hall of Fame Speaker and Author
Thank You to Our Sponsors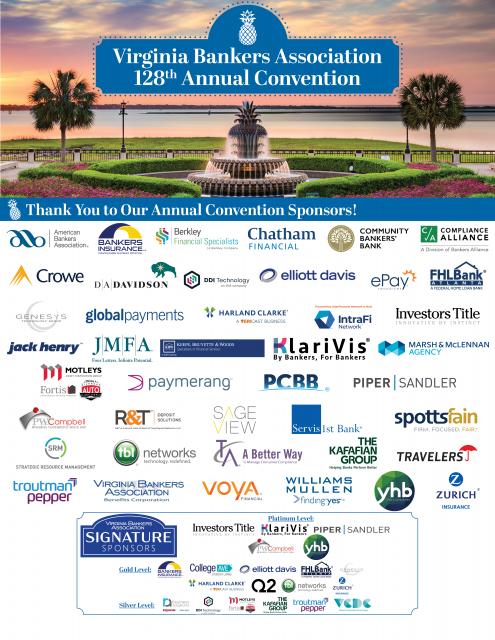 Pictures from the Event
Photo Booth Pictures