2021 Pathways to Connect & Protect Recap
May-September 2021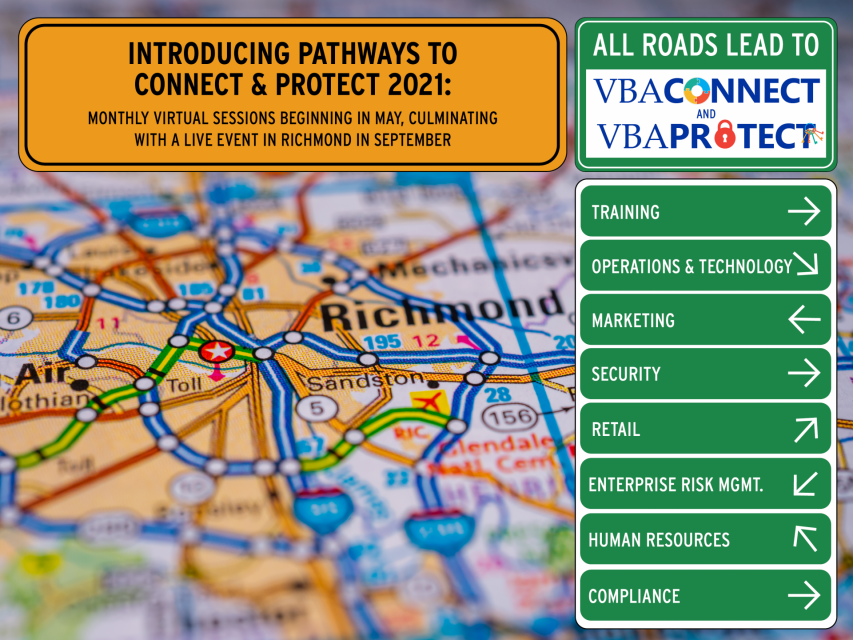 From May-September 2021, more than 260 Virginia bankers and industry partners grabbed their maps and joined us for Pathways to Connect & Protect, a journey of virtual learning and discovery. This event was designed for marketing, human resources, retail banking, training, security, enterprise risk management, operations and technology, and compliance professionals. During each session, attendees connected with travelers (attendees) and tour guides (industry experts) and uncovered new ideas, trends, and developments in banking. All roads led to their final destination – a two-day, virtual block party in September.
Pathways to Connect & Protect will kick off again in March 2022 – more information to come!
Session Dates & Descriptions
Pathways to Connect & Protect included a virtual kickoff event, virtual monthly sessions from May through August for each functional area of the bank, and a culminating two-day, virtual Block Party in September.
Monthly Virtual Sessions (by function area):
Function Area
Dates/Topics
Marketing

May 3: Reimagining Your Marketing Strategy in the Post-COVID World
June 7: The Magic of Marketing Automation is Doing More with Less
July 6: Making Your Digital Marketing Dollar Count
August 9: Mining for Gold: Driving Results with Your Data

Human Resources

May 24: Legal Hot Topics
June 28: Attracting and Retaining Talend in the Post-COVID World: Lessons Learned and Best Practices
July 26: Building Culture by Intention Amid Remote & Hybrid Workforce Model Shifts
August 30: HR Must Influence the Strategy, Not Just Implement It

Training

May 17: Creating a Culture of Agility
June 21: Integrating DEI into the On-boarding Process
July 19: Making Micro Work: 4 Approaches to Microlearning and Tips to Add Value for your Learners
August 26: L&D Roles Post Pandemic

Retail Banking

May 10: How to Re-Engage Your Team After a Pandemic
June 14: Eliminating the One-Size-Fits-All Approach: Building Modern Financial Experiences Through a Partner Marketplace
July 12: Clicks & Bricks: Blending the Convenience of Technology with the Branding Power of Brick & Mortar
August 16: Consumer Retail Banking Trends

Enterprise Risk Management

May 18: 2021 and Re-Energized Bank Examination: What to Expect
June 22: The ALM Process – Managing Performance and Risk in the Current Environment
July 20: SOC Audit Reports
August 27: Managing Climate Change Risk Within the ERM Program

Operations & Technology

May 4: Stay Ahead of the New Digital Demand
June 8: Five Faster Payments Updates from a Community Bank Insider
July 7: Elevating Your Fraud Prevention Strategies
August 10: Strategic Risk Taking

Security

May 11: 2021 Cybersecurity Outlook
June 15: Outside the Box: Groundbreaking Innovations in Bank Security
July 13: Lessons Learned from Civil Unrest and Protests – How Banks Can Prepare
August 17: Could a Cyberattack Bring Down the Banking System?

Compliance

May 25: Legal Update
June 29: Fair Lending Hot Spots
July 27: Banking Cannabis Customers
August 31: Long and Winding Road: LIBOR's Transitions
Thank You to Our Sponsors!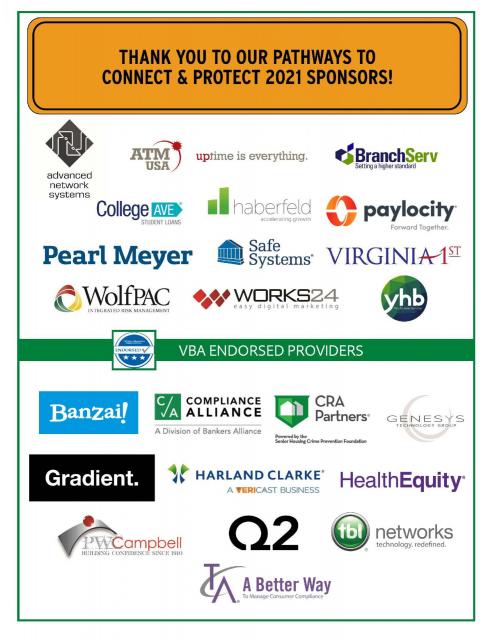 Pictures from the Monthly Sessions
Pictures from the Virtual Block Party