Virtual Women in Banking Conference
One-day conference designed for women in the financial industry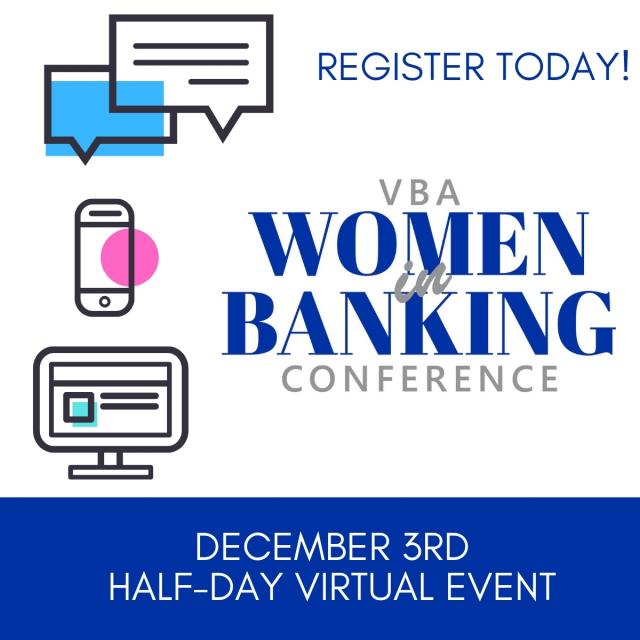 This conference is designed for all women involved in the financial industry who would like to participate in engaging and thought provoking sessions on finding success in the industry.
Agenda & Speakers
12:00-12:30 p.m. Power Lunch Mix & Mingle
Grab your lunch and log-in for some informal facilitated networking before the sessions begin.
12:30-1:10 p.m. – Try, Try Again
Laurie Stewart, President & CEO | Sound Community Bank and ABA Chair 2019-2020
Laurie will share her journey as an accidental banker in this thoughtful session that describes how to achieve your goals, one try at a time. You will hear about Laurie's career to the C-suite as well as learn some tools that may guide your journey. Come laugh with Laurie and take away some practical ideas.
1:10-2:00 p.m. - Thriving as a Woman in Business in the Post-COVID era​
Lauren Kirkley, Chief Operating Officer | Harland Clarke
This year has taught us so many valuable lessons, both professionally and personally, yet in the midst of the chaos and blur of each day – we sometimes fail to realize how much we have grown! Join Lauren as she shares her top insights and learnings from 2020, which we can all relate to – and how they can be keys for unlocking business success and personal fulfillment in 2021 and beyond.
2:00-2:15 p.m. – Stretch Break
2:15-3:30 p.m. – Slay Like a Mother
Katherine Wintsch, Author & CEO | The Mom Complex
Through the use of powerful research, captivating stories and heart-wrenching videos, Katherine shares tangible tools for slaying your self-doubt and unleashing your best self. During this session, Katherine will discuss:
How dragons of self-doubt are born
How to say no to others and yes to yourself
How to quiet the negative voice in your head
How to struggle without suffering
3:30-3:45 p.m. – Stretch Break
3:45-4:45 p.m. – Closing Keynote
Bertice Berry, Ph.D.
Join best-selling author and award-winning lecturer Bertice Berry for a closing session that will help you discover your unique purpose and how to use it to improve your own self and then for those you live and work with.
5:00-6:00 p.m.- Wine and Unwind: A Virtual Wine Tasting & Networking Event
*Additional Registration Required and Space is Limited (see details)
Wine and Unwind: A Virtual Wine Tasting & Networking Event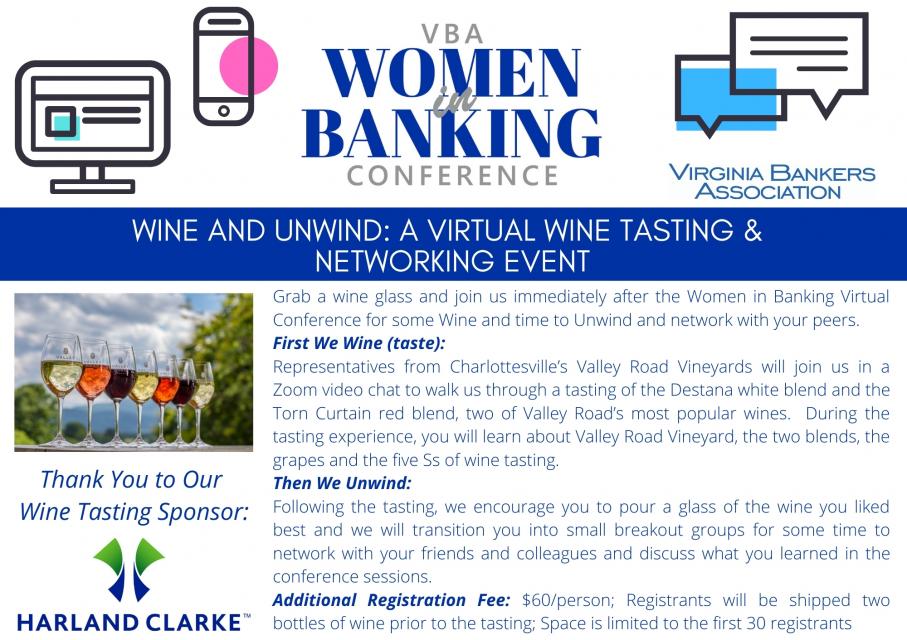 Registration Fees
Member
| Date | Price |
| --- | --- |
| Through November 23, 2020 | $395 |
| November 24-December 3, 2020 | $425 |
Non-member
| Date | Price |
| --- | --- |
| Through November 23, 2020 | $895 |
| November 24 – December 3, 2020 | $925 |
VBA Event Cancellation Policy
All cancellations will be charged a $25.00 administrative fee. Cancellations received less than 72 business hours before the program will be charged a $75.00 administrative fee plus any additional fees associated with the training. Substitutions are allowed prior to the beginning of course.
Special Needs & Americans with Disabilities Notice
If you have special needs that may affect your participation in this event, please contact Kristen Reid to discuss accommodations.
Sponsors
Click here for Women in Banking Conference sponsorship opportunities. Questions? Contact Amy Binns at (804) 819-4726.