VBA/ABA Washington Summit
Your opportunity to meet with Congress and the regulatory agencies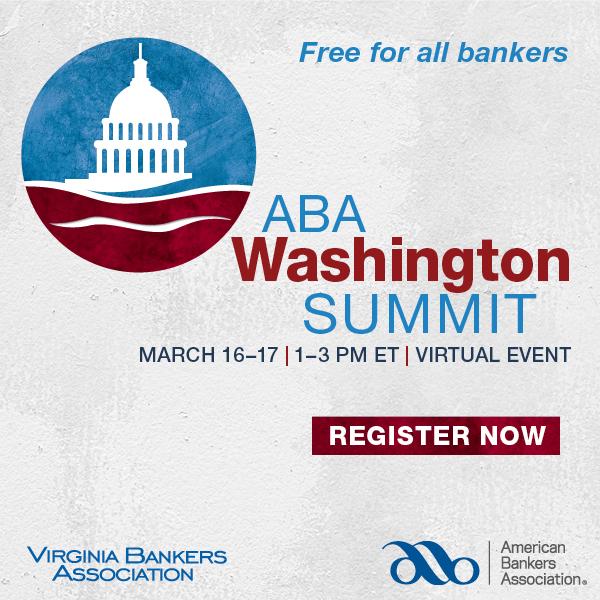 Washington Marriott Marquis
901 Massachusetts Avenue, NW
Washington, DC 20001
Make sure our industry is heard.
Congress and regulators need to hear from bankers across America to keep policy moving in the right direction.
Be a voice in the conversation. Join us for the ABA Washington Summit this spring.
The VBA/ABA Summit is the largest annual gathering of banking leaders in the nation's capital, giving bankers a unique opportunity to advocate for meaningful changes that grow the economy and give bank customers more choices. We've fought hard for banking policy changes that allow banks to better serve their customers and communities, but the work isn't done. Now more than ever, regulators and Congress need to hear from bankers to keep policy moving in the right direction. Registration for the Summit is FREE for bankers, regardless of ABA membership. The 2020 Summit will also include the Mutual Community Bank Forum, Emerging Leaders Forum and Women's Leadership Forum.
Please check out Twitter and Instagram (@vabankers) for pictures and updates from the event!
Program & Speakers
Monday, March 23
8:30 am – 3:00 pm Mutual Community Bank Forum (see below)
9:00 am – 4:00 pm Emerging Leaders Forum (see below)
3:00 – 6:00 pm Washington Summit Registration and Information
4:15 – 5:00 pm Orientation for Capitol Hill Visits
5:00 – 6:30 pm Opening Reception
Tuesday, March 24
7:30 am – 12:00 pm Registration Open
7:30 -8:30 am Breakfast Buffet
8:30-11:30 am General Session:
Navigating the Election & Beyond
Leslie Sanchez and Bakari Sellers
Bakari Sellers, a CNN political analyst and former South Carolina Democratic state legislator who at one time was the youngest African-American elected official in the nation, and Republican strategist Leslie Sanchez, a CBS News political contributor and a former White House official under President George W. Bush, will be keynote speakers at this year's event. Sellers and Sanchez will discuss the national political landscape just three weeks after Super Tuesday, the single primary day when the most Democratic nominating delegates will be up for grabs.
11:45 am – 1:00 pm Lunch
1:00 – 5:00 pm Capitol Hill Visits*
5:00 – 6:30 pm Reception at Dubliner Restaurant, sponsored by FHLBank of Atlanta
*Even if you are unable to attend the entirety of the Summit, please consider registering and attending the Tuesday events, including the morning general session and speakers, as well as the Hill visits with our Virginia Congressional Delegation. It is important to have as many bankers meet with our representatives as possible! Email Cindy Beazley to sign up and receive information on the Virginia Hill visits.
Wednesday, March 25
7:30 am – 12:00 pm Registration Open
7:30 – 8:30 am Breakfast Buffet
8:30 – 10:30 am General Session
10:45 am – 1:30 pm Women's Leadership Forum (see below)
Emerging Leaders Forum
March 23 - Leadership development and effective advocacy go hand in hand – and the Emerging Leaders Forum is a chance to share challenges and strategies with peers from across the country as you work to cultivate a strong, dynamic, and diverse banking industry for the future. During this interactive program, attendees will hear from thought provoking speakers and learn ways to build on their networking and leadership development skills. There will be a private reception following the Forum in addition to professional development opportunities. Learn more here.
Women's Leadership Forum
March 25 - Join your peers to discuss today's top leadership issues, hear thought-provoking speakers and gain valuable strategies for success. This year's program is designed to help bankers—both in daily bank operations and in their careers. They'll find a distinguished speaker, panel discussion and networking to encourage an exchange of ideas and solutions sure to result in valuable takeaways. Learn more here.
Mutual Community Bank Forum
March 22-23 - Attend the largest gathering of mutual bankers to explore the issues challenging your bank and bring the concerns of mutual institutions to Washington. Participants will meet with regulators on issues that affect your institutions and communities. Learn more here.
Hotel Information
Click here to make your hotel reservations.