2023 Spring Bank Supervisor School
It's Time to Lead Intentionally.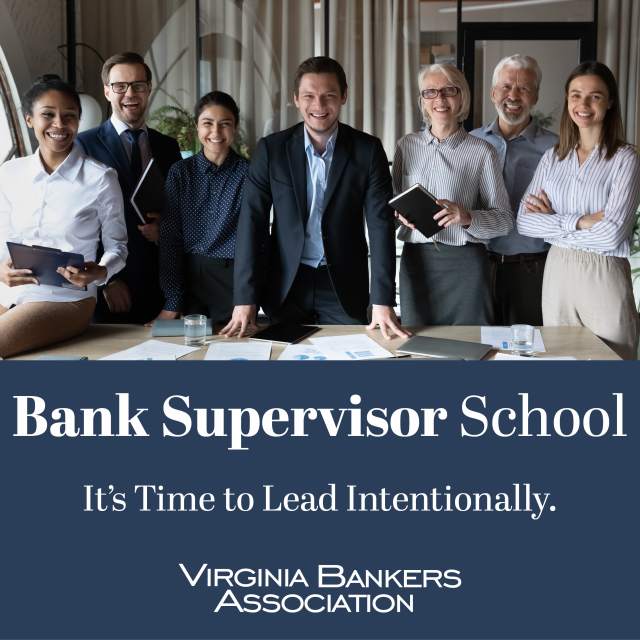 You don't master the art of leading and managing through luck; you master it with training, experience, self-learning, and applying best practices. As a supervisor, you must have the attitude, aptitude, skill-set, confidence, persistence, and commitment to excel in this multi-tasking, challenging role. This training will help take your expertise to a new level as you learn how to collaborate and coach your employees to excel on the job.
Whether new or seasoned supervisors, attendees find this in-person experiential supervisor training invigorating, motivating and applicable to managing and supervising others. You will learn how to manage crucial conversations and challenging situations. You will practice a coaching approach that encourages your staff to be engaged and accountable. It's Time to Lead Intentionally.
Program Highlights
Explore the coaching and leadership skills covered in this results-oriented program that will help you lay out your plan for success as a highly effective supervisor below. After completion of the school, participants will:
Have New Skills to Excel at Leading, Supervising & Coaching
Understanding yourself and others
Handling difficult conversations with employees
Address difficult or uninspired team members
Ask the right questions using the WDEP system
Benefits of a behavior change plan
Communicating with positive confrontation
Employee one-on-one meetings
Practice conversations
Skills in giving and receiving feedback
Assessing your Supervisor effectiveness
Be Equipped to Build a Productive Team
Learn how to develop and utilize teamwork in your workplace
Ideas to empower and motivate within the workplace
A dive into employee engagement
Best practices in all facets of leading and managing people
Managing the generational gaps
The Ideal Team Player
Vulnerability and trust
Be Prepared to Create a Collaborative Work Environment
Recruiting and hiring best practices
Strategies for employee training and onboarding
Setting performance standards
Performance reviews – no surprises
Other topics suggested by participants will also be covered throughout the session.
Who Should Attend
Whether you are new to leading and managing a team or you have been in a leadership role for many years, this school is for you! Bank Supervisor School is for anyone that currently leads and manages a team or anyone that has been identified as an up-and-coming leader in your organization.
Networking Reception
There will be an informal networking reception from 4:00-5:00 pm following the first day of Bank Supervisor School at the VBA office. Light food and refreshments will be provided as bankers spend some time making new friends and industry acquaintances outside of the classroom.
About the Instructor
Karen Butcher says her vast career experience prepared her for the roles of Head Coach and Pivotal People Trainer at InterAction Training. Her work diversity includes: High School Home Economics Teacher, 4-H Youth Agent, Mary Kay Sales Director, Training Manager at the Kentucky League of Cities and Director of Training at Whitaker Bank Corporation of Kentucky. She considers earning the Certified Bank Training Professional credential in 2016, one of her top career achievements.
From her time in the trenches, she has seen the need for a new leadership philosophy where leaders hold themselves and their teams accountable and let go of outdated practices
Karen is a faith-filled woman who is courageous, resilient, and compassionate. She and her husband Gene are parents to five sons, two daughters-in-love, and grandparents to three-year-old Teddy. They live in Stamping Ground, KY where they raise sheep, chickens, and vegetables.
Registration Rates
| | Member | Non-Member |
| --- | --- | --- |
| Through April 11, 2023 | $625 | $1,125 |
| April 12-May 2, 2023 | $695 | $1,195 |
Hotel Information
Homewood Suites by Hilton
4100 Innslake Dr
Glen Allen, VA 23060
Only a few rooms are remaining in the room block (4/20/23)
The VBA has negotiated a room rate of $98 +tax. To make a reservation, click here. Rooms must be reserved by April 30, 2023.
VBA Event Policies
By registering for this event, you are agreeing to the VBA Event Policies.
CANCELLATION POLICY
All cancellations will be charged a $25.00 administrative fee. Cancellations received less than 72 business hours before the program will be charged a $75.00 administrative fee plus any additional fees associated with the training. Substitutions are allowed prior to the beginning of the conference.
SPECIAL NEEDS & AMERICANS WITH DISABILITIES NOTICE
If you have special needs that may affect your participation in this event, please contact Gail Queen to discuss accommodations.